Centurion Diesel Engine Conversion
Because of the high demand for information concerning our new "Centurion" diesel engine conversion for the Lincoln SA 200, SA 250, CLASSIC 1, classic 2, and CLASSIC-3 welders, I felt it was best to write up a standard information sheet that can be emailed out to our distributors and customers. Please forgive us if this sounds like a form letter, but it should give you all the information you need about the engine and the conversion. If you have any further questions you can email us at customer@Weldmart.com or call us at 1-281-432-0250.
When making a decision on what diesel engine to install in your SA-200, there are considerations that you must make. At Weldmart we have decided that our engine of choice is the Kohler KD 625–2. Please note this configured for Weldmart to comply with Federal Emission regulations, we supply documentation with each engine. We have put much thought and research into this project and we feel that this engine is the best of all worlds to update your SA 200, SA-250, Classic 1,2, & 3. There are other Lincoln welders that can be upgraded using this special engine, please contact us for any further information.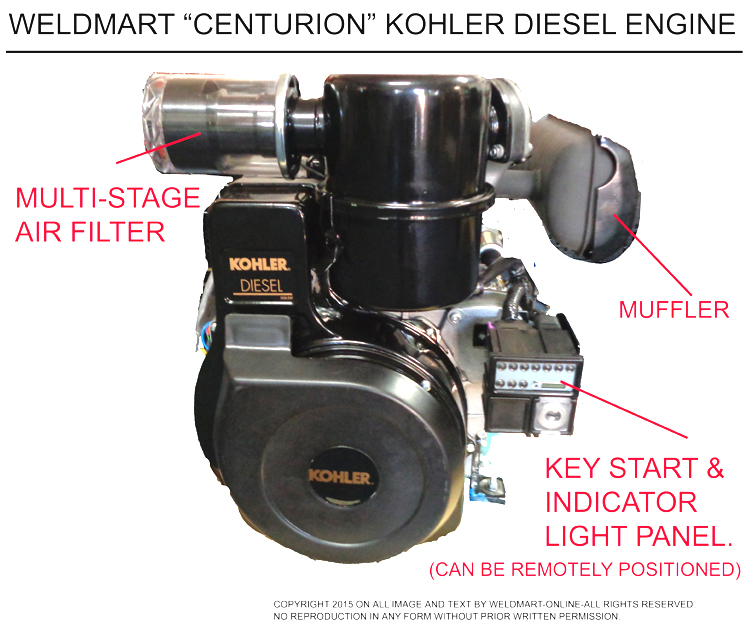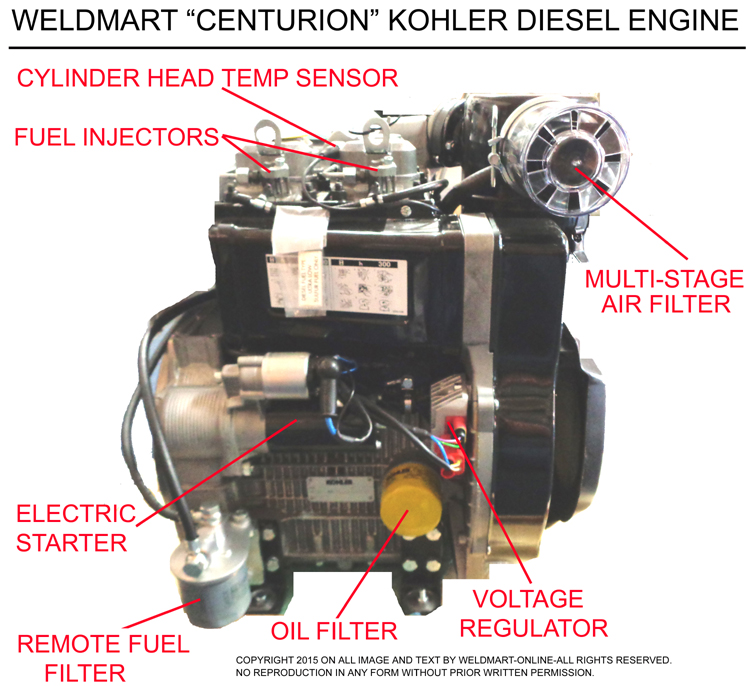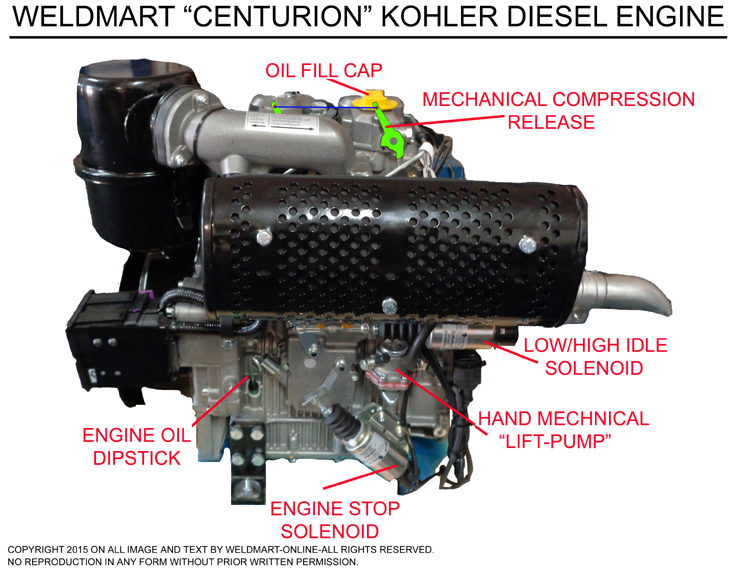 The following are the reasons why:
1) This engine passes all Tier-4 emission standards. It is our understanding that by Federal statute, any replacement engine, that is not the original OEM engine used in the welding machine, must pass 2014 EPA emission standards. If you have any questions concerning this, please contact your local EPA office for clarification. The Kohler KD 625-2 engine complies with federal statute, and certification papers are sent with each engine conversion. In other words, this engine conversion will not get you in trouble with the Feds.
2) If you're going to spend 10, 12, or $15,000 to upgrade your welder with a diesel engine; shouldn't you get some type of warranty? The Kohler KD 625-2 engine carries a three-year, parts and labor warranty. Parts, service, and warranty for this engine is available from any Kohler authorized service center.
Note: if you decide to purchase any engine to be installed in your machine, you should ask the seller one question: "Are you an authorized dealer for the engine you are installing in my machine?". If I'm in Podunk North Dakota, and I have a problem with the engine, where do I go for service? Sir, do you stock any parts for this engine: such as starters, any electronics, air filters, oil filters. if I need parts can I get them from you quickly?
3) I am always asked the same question; why an air cooled diesel? Very simple: 40% of all diesel engine, infield, failures are cooling system related! No radiator, no water pump, no hoses, no thermostat to stick, all these problems go away. FYI: this Kohler engine was originally manufactured by Deutz, Kohler purchased the "small diesel engine division" from Deutz to complete their industrial engine line. The basic design of this engine goes back over 40 years-there are thousands of this engine design out all over the world. There's nothing new "whiz-bang" about it, the engine design is a proven. To help with cold weather starting and facilitate a no stress engine stops (that last hard shock as the diesel finally comes to a complete stop). We believe that this last shock is damaging the main armature insulation).
4) When you're in business for yourself, and you're paying for everything, anything that saves you money, puts dollars back in your pocket immediately. If you pull a standard Continental engine out of the Lincoln SA 200, the weight of the engine and everything on it, plus the radiator, and the water in the radiator the engine comes to approximate 600 pounds! The Kohler KD 625–2, weighs 286 pounds! I don't know how much you're going to save in fuel and stress on your truck; but it will make a real difference!
5) Here at Weldmart-Online, we have been servicing welding machines for 43 years. We have got a pretty good idea of what the problems are and how to fix them. When we retrofit your SA 200 from gasoline to diesel, it is a complete retrofit. The unit comes with low oil, high temperature, engine shutdown, and a Weldmart Centurion idle control board (two-year warranty). The unit is returned to you ready to weld.
6) By using the Kohler KD625–2 diesel engine, we can shorten the whole welding machine approximate 6 to 7 inches. By doing this the machine will set crosswise in a standard three-quarter ton pickup truck. This can save you alot of time and money if you are operating in states that require commercial driver's license, for drivers of "dully trucks. One less potential problem to cross off your list.;
7) If you have an older "short-hood" SA-200 welder, without a starter, our Kohler engine upgrade will give you a 12 V alternator and starter! It literally upgrades the machine to a new machine standard.
Feel free to email or call us at anytime if we can you with repair parts, remanufactured (not rebuilt-there is real difference)-ask us and we'll tell you the whole story! engines, SA-200 upgrades, and diesel engine converations.
Larry D. Gruner-Sales Manager
WELDMART-ONLINE LLC
21120 Highway 105 East
Cleveland, Texas 77328
_____________________________________________
LOCAL: 281-432-0520, FAX: 281-749-8117
INTERNATIONAL: 281-432-0502/ 281-432-2896
email: customer@weldmart.com Visit Us: www.weldmart.com
--------------------------------------------------
-- "Of all the properties which belong to honorable men, not one is so
highly prized as that of character." - Henry Clay