T Plus 250-amp MIG Gun
Most manufacturers (such as Lincoln®, Miller®, Hobart®, Tregaskiss®, Bernard®) MIG guns only have one thing in common: they have obsoleted or are planning to obsolete the guns they now offer for sale.
It is a sad fact of life that MIG welding guns die of wear and abuse and must be replaced. But what if you could buy a superior MIG gun: inexpensive to buy and maintain, with years of proven service? A popular gun that the aftermarket has copied (and improved)!
The T Plus 25 MIG Gun is one of the most popular style of MIG guns in the world. Manufactured by Trafimet® in Europe and assembled by Trafimet® USA in Florida, it copies the original Binzel® 25 feed technology, but with an improved handle and trigger. The ergonomically designed handle and extended trigger lever moves the operator's hand further back on the gun handle, thus relieving pressure on the wrist.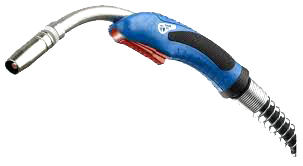 Trigger failure is common in all MIG guns. The T Plus 25 MIG gun has a life time warranty for the trigger mechanism. If it fails, we will replace it! Only if you break do you buy it. You can remove and replace the trigger within three minutes and by removing only one screw.
Prices, local availability, and service for manufacturer consumables can be a real concern. But our 250-amp, direct-connect MIG gun uses standard consumables available anywhere!
All T Plus 25 MIG guns ordered online from Weldmart-Online come with five additional tips and one spare nozzle.
You can order your T Plus 25 MIG gun assembled for the MIG machine you have: no expensive additional adapters to buy. In our online store, you can purchase upgrade kits for Airco Dip Pak / Dip Stik machines and Miller 35/35S; kits include everything you need to upgrade your system, including the T Plus gun with the appropriate adaptor and your choice of 10', 12', or 15' lead.
The T Plus 25 is an inexpensive upgrade gun for Linde / L-Tec / Esab machines. It will plug directly into the Linde/ L-Tec/ Esab Mig 31, SWM 31,SWM 23, SWM-32, and SWM-34, as well as many machines by many other manufacturers.
Ergo MIG guns and replacement parts are available for welding machines from:
MILLER
LINCOLN
ESAB
LINDE L-TEC
MATCO
THERMAL-DYNAMIC
SOLAR
HOBART
SYSTEMATICS
THERMADYNE
MARQUETTE
POWCON/CYCLOMATICS
POWERMATE
GLENN-PACIFIC
DECAMIG
AIRCO
AUTOARC
FORD/ROTUNDA
NAPA
SNAP-ON
WELDCO
LEE
BLACKHAWK

The T Plus gun's liner is centered in the gas diffuser, assuring simple, sure wire feeding. Because the wire is consistently supported, it is less likely to experience the problems seen in other guns where wire flexes and causes feeding resistance; slows and makes the arc unstable; stops and burns back into the tip; or jams and "birdnests" at the feed rolls.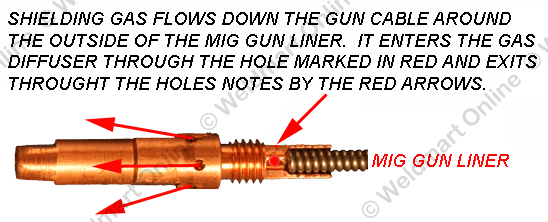 The T Plus gun's neck is coated with a Teflon® liner and plated steel armor. It uses inexpensive and easily replaceable nozzle friction springs.
The T plus gun is solid-copper which is nickel plated for heat reflection, so the gun will experience less heat-related stress over time. (The radiated heat from your welding arc is UV energy. UV is reflected off a bright shiny surfaces-it is absorbed and retained by a dark surfaces.)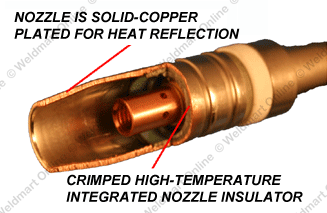 The Ergo MIG gun provides the flexibility of both standard and heavy-duty tips.