Alpha 2 Plasma Torch
Do you have a plasma cutting system that uses "high-frequency" arc starting, and are you unsatisfied (for any reason) with the torch that came with your plasma?
The Alpha 2 will replace almost any OEM plasma torch that uses "high-frequency" pilot arc starting. It is designed to cut with air, up to 70 AMPS. If you have an older machine that was designed to cut with nitrogen and CO2, it can now be economically converted to use "shop compressed air."
View a (partial) list of plasma systems which the Alpha 2 can replace.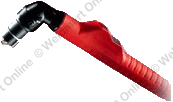 The Alpha 2 comes in either a hand-torch or machine-torch configuration, with 20' or 40' leads. This plasma torch is available in a machine-torch (straight barrel) configuration, shielded or unshielded. The consumables are very inexpensive, and the torch is easy and inexpensive to maintain.
Unlike many torches, the Alpha 2 torch comes with built in "parts-in-place" safety feature. When the shield cap is removed, the machine CANNOT BE ENGAGED! There is no danger of the operator being accidentally shocked, while changing consumables.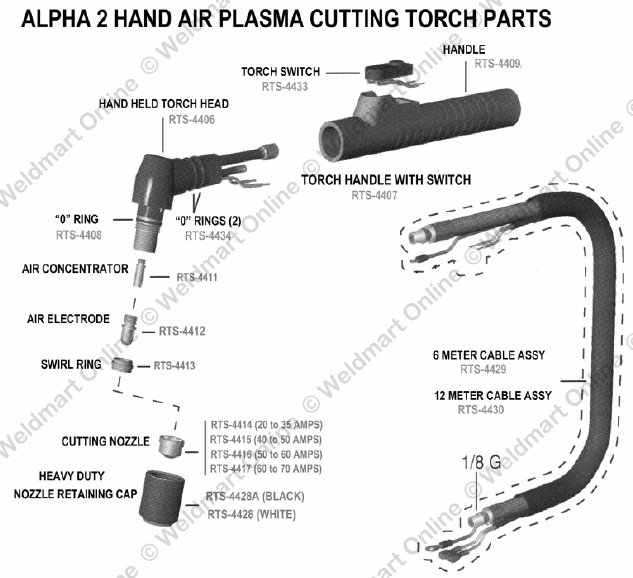 Torch Head (RTS-4406)-easily replaced
Replacement Handle
Replaceable Electrode Cooling Tube. If damaged, can easily be replaced.
ONE Electrode, 20 to 70 AMPS!
One Swirl Ring for all nozzle sizes!
FOUR Nozzles give you cutting amperage from 20 to 70 Amps!
Heavy Duty Shield Cup.
Two Leg Metal standoff

Two Wheel Cutting Guide

Extended Nozzle and Nozzle Shield
Additional options for the Alpha 2 torch (click each for a larger version):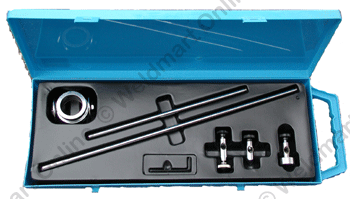 Alpha circle cutting kit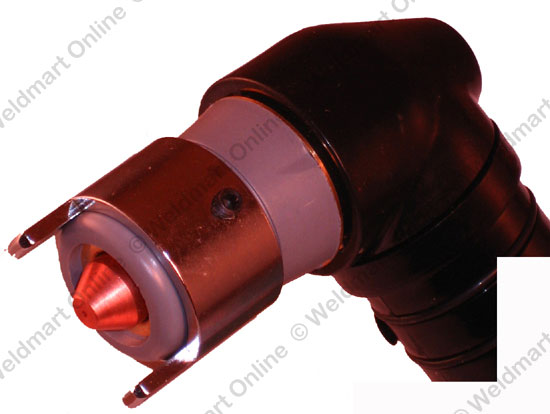 Two-leg metal stand-off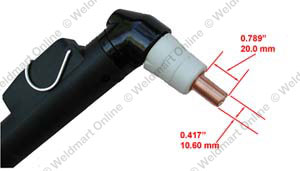 Extended electrode/nozzle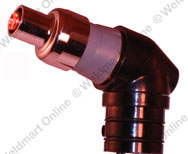 Extended electrode/nozzle shield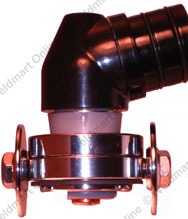 Two-wheel "buggy" guide

Thermal-Dynamics quick-disconnect plug (replaces PCH-70 torch)

Miller plug (replaces ICE-50, ICE-70 on Spectrum 700, 701)
OTC/Daihen plug (replaces CT-0302, CT-0701, CT-0702 on M3000, D5000, D7000)
Additional images of the Alpha 2 installed (click each for a larger version)

Alpha 2 Installed on a Thermal-Dynamics XL Series Plasma

Alpha 2 Installed on Cutmaster 38/51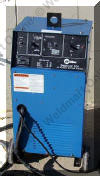 Alpha 2 Installed on Miller Spectrum 500A

Alpha 2 Installed on Snap-On (Solar Century) 20/40