Alpha 3 Plasma Torch
Weldmart-Online LLC has been importing the Trafimet S-45® plasma torch for over eight years. Since the name Trafimet® was virtually unknown in the continental United States, we adopted the torch and renamed it the Alpha 3. For those unfamiliar with Trafimet, we often refer to Trafimet® as the "Hypertherm of Europe". The Trafimet S-45® has proven to be a remarkably robust plasma torch, inexpensive to buy, easy to install, and simple to maintain.
The Alpha 3 a non-"high-frequency" arc starting torch. This type of arc starting is commonly referred to as "blow-back" arc starting.
The Alpha 3 plasma torch is designed for cutting currents up to 40 amps. The power cable, torch head, electrode, and shield cup are "heavy duty." There is one electrode for currents from 15 to 40 amps. This torch is not only less expensive to buy and maintain compared to the original OEM torch, but it will also give the user a much greater service life.
When you order your Alpha 3 plasma torch from Weldmart-Online LLC, it will come complete with the proper adapter (or the quick-disconnect plug installed) for your power supply, complete installation instructions, and a toll-free help line.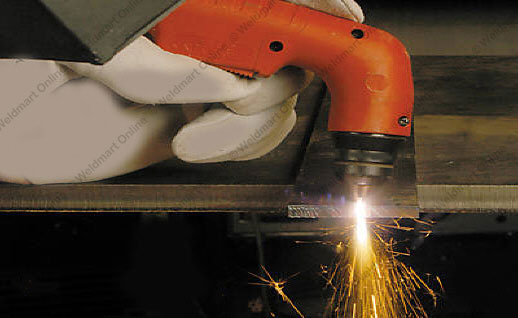 This versatile torch uses a common design, and the parts are interchangeable with many other manufacturers, making it easy to find parts at your local welding shop. All parts for torch repair and all of the consumables are available for immediate shipment and can be found in Weldmart's online store.
Complete parts breakdown of the Alpha 3 (Trafimet S-45) torch (view larger version)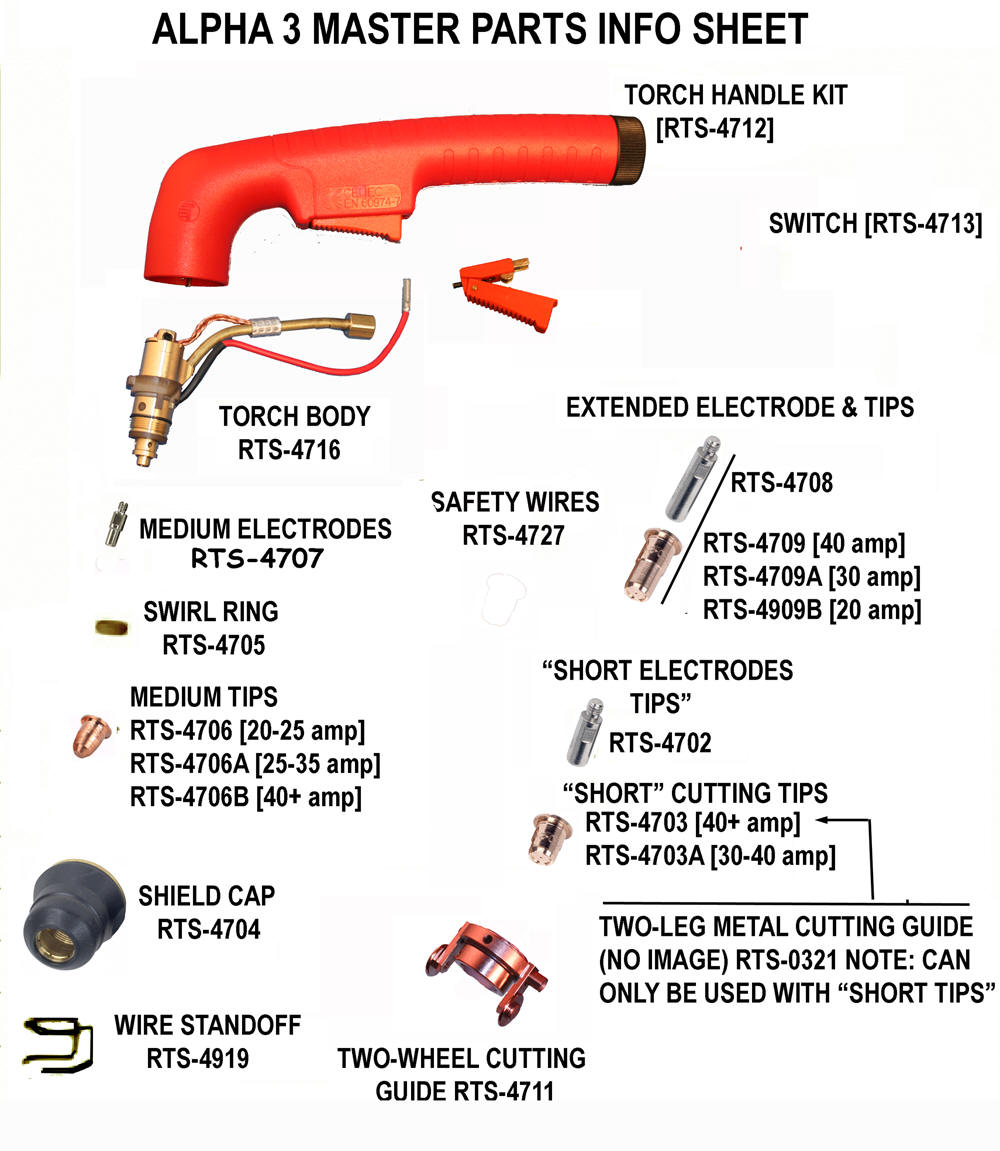 We offer the Alpha 3 torch for the following plasma power supplies:
Miller Electric

®

Spectrum 300,Spectrum 650 Cut Force, Spectrum 701, Spectrum 701CT, Spectrum 750, Spectrum 2050, Spectrum Lynx, Spectrum 2225, and Spectrum 3083

*

* The Alpha torch makes an excellent additional torch for the Miller Spectrum 3080 when a smaller, more maneuverable torch is needed for precise cutting. However, it must be noted that the Alpha 3 torch is not recommended for currents above 40 amps. 

Hobart

®

Air Force 250A, Air Force 375, Cybercut 1025, Cybercut 2050
Sears Craftsman

®

 WE20507
Harbor Freight

®

 91814-VGA, and 4594
Matco

®

 MPLASMA 25A
W. W. Grainger Dayton

®

 20 amp (3W722)
Century

®

 2010, 2020, 2050, 118-009, 118-010, 118-015, 118-018
Snap-On Tools

®

 PCS-20, YA-223, YA-3230,YA-3440
Hypertherm

®

 Max 20, Max 40 CS, Max 42, Max 43, Powermax 190 (PAC-105), Powermax 380 (PAC-110)
Speedway - the Speedway plasma torch is identical to the Alpha 3
Here are images of a few of the many inverter air plasma systems that use the Alpha 3 torch: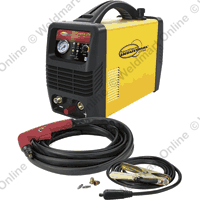 POWER TORCH 20 AMP (CHINA)
"HOT-MAX" PLASMA (CHINA)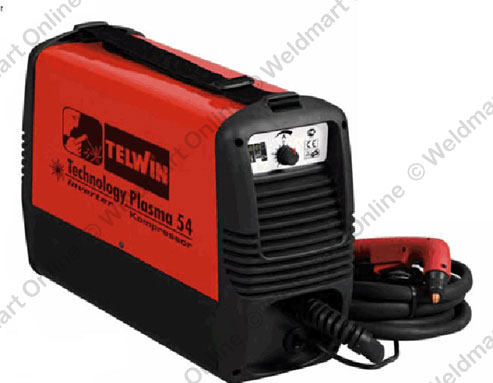 TELWIN PLASMA 54 (ITALY)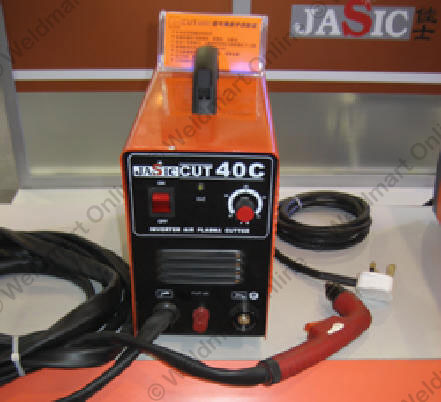 JASIC 40 AMP (CHINA)
HTP MICRO CUT 301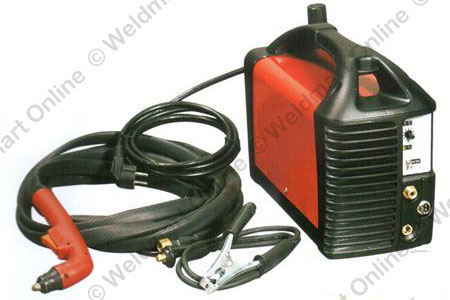 LGK AIR PLASMA (CHINA)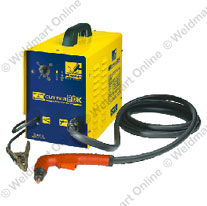 TYPICAL CHINESE AIR PLASMA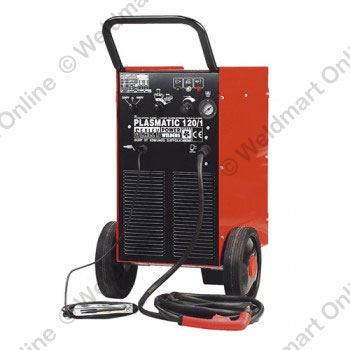 SEALY PL120/1.V3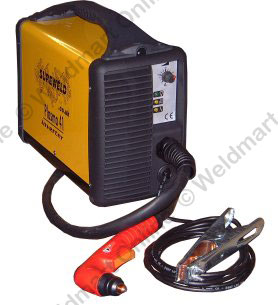 SUREWELD PLASMATEC 41 (ENGLISH)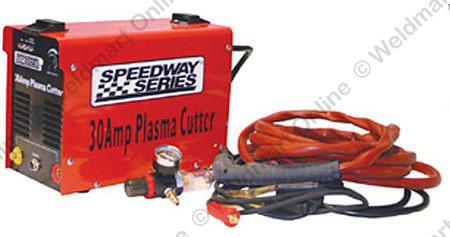 SPEEDWAY 30 (CHINA)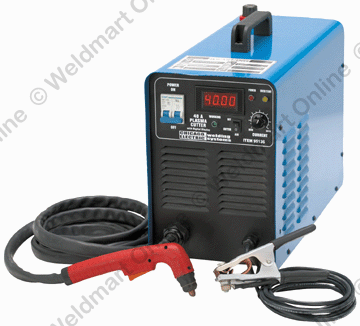 HARBOR FREIGHT MODEL: 95136-AAA (CHINA)
MILLER SPECTRUM 625
Additional options for the Alpha 3 torch: