Alpha 5 Plasma Torch
The Alpha 5 is a 100-amp upgrade plasma torch for Miller® and Hypertherm® Systems. It is designed as an upgrade torch for plasma power supplies that do not use high-frequency arc starting. The Alpha 5 comes in either a hand-torch or a machine-torch configuration.
The Alpha 5 is designed for cutting currents up to 100 amps. The power cable, torch head, electrode, and shield cup are "heavy duty." There is one electrode for currents from 40 to 100 amps. This torch is not only less expensive to buy and maintain compared to the original OEM torch, but it will also give the user a much greater service life.
When you order your Alpha 5 plasma torch from Weldmart-Online LLC, it will come complete with the proper adapter (or the quick-disconnect plug installed) for your power supply, complete installation instructions, and a toll-free help line.
Pictured below is the Alpha 5 installed on a variety of compatible machines: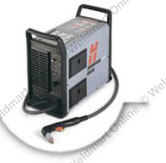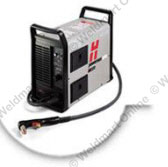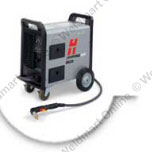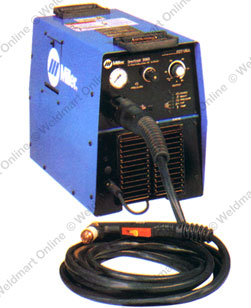 Parts breakdown of the Alpha 5: