Replacement Field Exciter Coils
These replacement field coils are used on the SA-200 welder and other Lincoln® engine and motor generators.
We offer Lincoln® OEM or our own field exciter coils; we believe the Weldmart-Online coils are superior to Lincoln OEM. Our field exciter coils are 100% copper, wrapped in fiberglass tape and fully insulated: no exposed winding!
Weldmart-Onlinefield exciter coils come with a ten-year limited warranty (the best in the industry).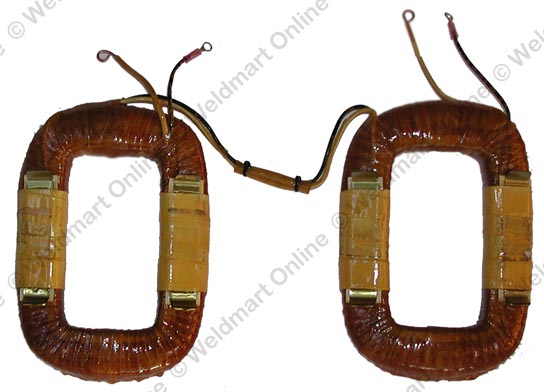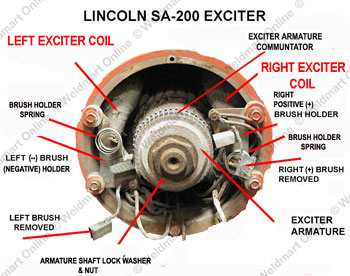 Weldmart-Online exciter coils are compatible with the following machines:
Engine Drive Welders:

SA-200; Cont. F162/163, SA-250-F163, SA250-30152, SAE-300, Classic 300D, Classic 300G, Classic 1, Classic 2, Classic 3, Pipeliner 200-G, and the Red-D-Arc® D300K

Motor Generator Welders:

SAE 300 Codes: 372, 465, 466, 520, 541, 585, 621, 654, 704, 707, 740, 759, 966, 1025, 1216, 1244, 1245, 1350, 1404, 1621, 1622, 1823, 1941, 1960, 2181, 2253, 2631, 3082, 3083, 23124, 3163, 3198, 3479, 3811, 3883, 4200, 4204, 4613, 5159, 5355, 6194, 6250, 6298, 7076, 8300.

SAE 400 Codes: Codes: 346, 406, 416, 417, 491, 492, 521, 531, 532, 580. 599, 637, 684, 685, 686, 687, 688, 855, 893, 920, 921, 961, 962, 970, 1213, 1233, 1234, 1236, 1321, 1503, 1504, 1671, 1672, 1810, 1942. 2002, 2242, 2243, 2248, 2254, 2266, 2373, 2376, 2666, 2766, 2901, 3214, 3273, 3480, 3551, 3812, 3982, 4006, 4092, 4093, 4197, 4799, 4982, 5086, 5202, 5306, 5455, 5461, 5975, 5991, 6022, 6221, 6448, 6468, 6562, 6656, 6982, 7065, 7095, 7110, 7117, 7922, 8161, 8675.

SAE 600 Codes: 336 through 5778 except code 345

SAF 600 Codes: All Codes

SAN 600 Codes: All Codes

SA 750 Codes: All Codes

SA 800 Codes: All Codes

SAN 900 Codes: All Codes

SAN 1000 Codes: All Codes

SAN 1100 Codes: All Codes