Replacement Contactors
We sell direct replacements for the most common mechanical contactors used on Miller Electric® power supplies. If your contactor is not listed here, contact us.
When used in a welding machine, the contactors turn on (or off) the welding power of the machine. A welder will tell you the lead is "hot" (has weld power available) or cold (won't arc).
The contactor is an electro-mechanical, remotely controlled switch. When used to control a welding power supply, it only degrades when it "opens" under load. When the arc is broken with the power supply, the contacts (inside the contactor) arc as they open. Eventually they burn black and will not conduct, or they will weld together.
Most machines break the input AC line. Either a 2-pole (single phase) or 3-pole (three phase) are the most common contactors normally found in the field.
Note: Some machines use a 4-pole contactor; the Linde® UCC-305 TIG power supply is the most common. The UCC-305 was one of the most dependable TIG power supplies ever made. The input power is single-phase, but the contactor is a 4-pole, 50 amps (OEM only) unit.
Some machines break the power between the the main power transformer and the diode bridge. This is normally done for design reasons (Miller® CP-200 and CP-300 are the most common examples).
Many older Hobart® and Lincoln® power supplies use a contactor in the "welding circuit." They actually break the welding power output. These contactors were normally large with very large contacts. Many newer MIG power supplies (Esab Migmaster® 250, 251, and Millermatic 200®) use a 3-pole contactor, with the three legs connected in parallel, to break the welding power. This is a very economical design, and very easy to replace.
These aftermarket contactors are identical if not superior to OEM.
3 Pole/ 75 Amp/ 120 VAC
Coil Contactor
This contactor is a direct replacement for Miller® P/N: 177551.
Used in the Miller® FC6E,FC65E, Spectrum 750, Spectrum 1000, Spectrum 1500, MP-45, MP-65E, Dialarc® HF, CP-300, and FC-65, and any application that would require a 75-amp, 3-pole, 120-VAC contactor.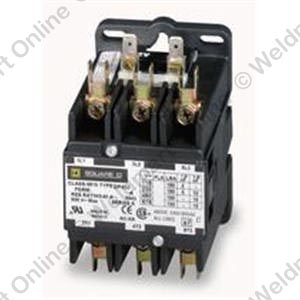 Replacement contactor for Miller SP-32 series wirefeeders
Miller OEM P/N 110361