PHONE ANSWERED 24 HOURS A DAY, 7 DAYS A WEEK - CALL US!
WELDMART CUSTOM SPOOL GUN PACKAGES FOR LINCOLN ELECTRIC CONSTANT VOLTAGE DC MIG POWER SUPPLIES
Weldmart-Online now offers The Pro-Fax AEC-200 spool gun with deck direct connect adapter for all Lincoln constant voltage DC mig power supplies. One of the most useful items in your shop is the "MIG spool gun." This is a MIG wire feeder and MIG gun in the palm of your hand! With this MIG Spool Gun, you can easily weld aluminum, stainless steel, carbon steel, aluminum bronze, silicone bronze, or any filler metal on a 4" spool. If you have a special application, you can always spool a small amount of wire for a special job.
Lincoln Electric has only two spool guns to offer, the Magnum 250 LX (MK Products) spool gun and the Magnum SG spool gun (made by Systematic's).
The Magnum SG spool gun will connect to the Vantage welder with 25' length maximum. To make the connection you must buy the gun, the SG control module (K488), The Lincoln Control Module Input Cable (K691–10: only available in an additional 10 foot length). There is no way to extend 150 feet from the welder. It should be noted that this spool gun is rated 250 A, 60% duty cycle-in argon only.
FYI: it only has a 90 day warranty!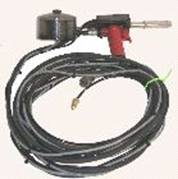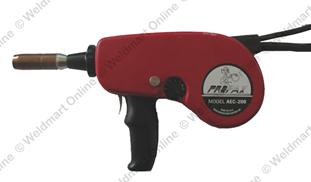 THE AEC-200 CARRIES A 1-YEAR WARRANTY!
NOTE: Because of the complexity, different lead lengths and multiple applications, our custom spool gun packages are not sold on our shopping cart. To place an order or for more information please call us at 1-800-460-6474 in the continental United States or our international phone number is: 1-281-432-0250
Home | Store | About Weldmart-Online| Search Site | Report a Site Error | Contact Weldmart-Online LLC
Dealer inquires welcome.
© This website is copyright 2010-2013 by Weldmart-Online LLC. ALL RIGHTS RESERVED. Reproduction in any form is prohibited without prior written permission.
© The terms "Reliable Easy Idle" and "Reliable Easy Idler" are copyrighted and application for trademark is pending.
Profax, AEC-200, Miller®, AEAD, AEAD-200-LE,Lincoln,Lincoln electric,Magnum, Lincoln®, SA-200, Weld'N Power, Ranger, Power Arc, and related product names are registered trademarks and property of The Lincoln Electric Corporation. Other brand and product names are the property of their respective companies. Weldmart-Online LLC is in no way affiliated with Miller Electric Mfg. Co., the Lincoln Electric Company, or other companies whose products may be referenced. All references to named machines, torches, other products, and part numbers are provided for the convenience of our customers only and do not imply any affiliation with or endorsement by these companies.