Kubota Engine Serial Numbers
If you have a Miller or Lincoln welding machine with a Kubota diesel engine, Lincoln or Miller cannot help you with parts. We at Weldmart-Onlinecan, but we need the SERIAL NUMBER off the engine block or the CODE NUMBER normally found stamped on a semi-metallic label attached to the engine valve cover.
You need to locate either the engine Serial Number (six digits and/or letters, normally stamped on the block) or the Code Number (ten digits, normally stamped into a plastic label or a tag on the valve cover). Sometime the OEM (Note: Miller or Lincoln) orders the engines without all the engine information on the valve cover metal tag.
Look at the right side of the welding machine (from the control end); the fuel injection pump is mounted on the front of the engine, close to the radiator fan. It will have three or four tubes coming off the top going to the head of the engine. Etched in the engine block will be a six-digit number.
Example:
Miller Trailblazer 350 S/N: LG040579
Kubota D905 Engine Serial Number: 6C9969
Code Number: 16988-12000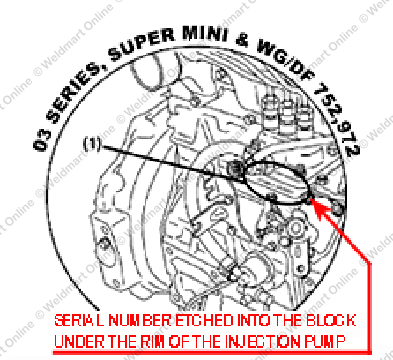 Kubota Engines in Welding Machines:
Miller:
Trailblazer 300 Kubota D-722
Trailblazer 304 KubotaD-722
Bobcat Kubota V2403
Trailblazer 350 Kubota D905
Lincoln:
Classic 300D Kubota V2203 D200
Pipeliner Kubota V2203
Ranger 10 Kubota DH 850
Ranger 10XL Kubota DH 850
Ranger 300D Kubota D905
Ranger 300DLX Kubota D905
Ranger 405D (Australian) Kubota D1105